You cannot go wrong with honed concrete for either indoor or outdoor flooring. They are timeless and durable, with a 50-year lifespan. Furthermore, this material can withstand extreme weather conditions and is resistant to wear from foot traffic or tire treads. Most importantly, they are inexpensive and require minimal maintenance, allowing you to stick to your budget.
However, through time, repairs and maintenance will be required for your honed concrete. This article will explain in detail how to tell if your concrete floor needs restoration.
What is honed concrete? 
Honed concrete is a type of flooring in which the surface layer of the concrete is removed to expose the aggregate. Then, a sealant is applied to the surface for added protection and to give the concrete a glossy appearance. Afterwards, an anti-slip additive is added to the mix to create a slip-resistant surface for your newly honed concrete floor. 
Now that we have a brief understanding of what honed concrete is, let us move on to the different signs they need to be prepared. 
#1 Discolouration
A discoloured concrete surface may be a result of several liquid spills that cause stubborn stains. This may also be due to your floor being too exposed to the harsh sunlight or other elements. To restore your floor's elegance, removing these stains is necessary. You can achieve this by mixing concrete cleaner and degreaser in a 1:10 ratio and applying it to the surface with a light scrub.  
#2 Uneven appearance
Honed Concrete is a sort of smooth concrete that is becoming increasingly popular in many modern homes. However, once you notice that certain areas of your concrete floor have a rough or uneven texture, they likely need some concrete floor repair already. 
Having a messy and unstable surface may cause an unfortunate accident. Therefore, it is imperative to have your uneven concrete floors levelled. If you are dealing with small bumps, you can try to smooth the surface yourself. Grind the surface using a concrete grinder, vacuum up the debris, and smooth off the surface with a buffer. However, if you are unable to resolve this problem on your own, you must seek the assistance of a professional.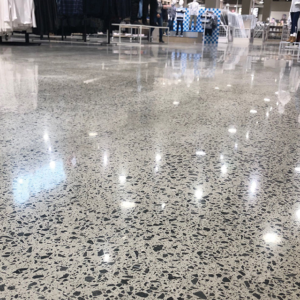 #3 Visible concrete cracks
The appearance of cracks indicates that something is wrong beneath your floor. This may be caused by changes in the weather, making the ground below expand and contract. Prolonged rainfall followed by dry conditions may also be the culprit. 
While cracks may be a minor issue, they may become more serious if they are not repaired promptly. These cracks may become a breeding ground for pests, posing a health risk if left untreated. 
#4 Sinking floors
The gradual sloping of your floors indicates sinking. This may be the result of heavier loads than were initially intended for your home's design, like large, heavy pieces of furniture or objects, such as a grand piano or a table. Another potential cause is prolonged exposure to high humidity, leading to dehydration and rotting. This concern cannot be solved through DIY solutions, so contacting a professional once you spot signs of sinking is ideal. 
#5 Concrete pitting
Over time, the concrete will corrode, causing the holes to become more extensive and more profound. If this occurs, it will become hazardous because it may result in accidents.
Pitting is characterised by small depressions and low spots on the surface of the floor. The dropping of heavy objects may have caused these holes onto the surface of the concrete. It may be the result of improper finishing or the aging process, among other causes.
#6 Concrete flaking or spalling 
Concrete flaking occurs when thin layers of concrete separate from the top down. Moreover, it is typically observed when the temperature dips below freezing and moisture in the concrete expands. This can also be caused by poor mixing and finishing techniques of the concrete. 
Furthermore, it can lead to an uneven surface and a damaged overlay. Dusty concrete floors can also become a significant issue due to a weak and porous surface. The most effective method for preventing dust is to apply a solvent-based acrylic sealant. Before applying an acrylic sealer, you will want to remove as much dust as possible from the surface without grinding. 
#7 Water pooling on the surface
Concrete surfaces are designed to drain water naturally. If water pools in one area after it rains, it's usually a sign that your concrete's drainage system isn't working correctly or that the waterproof coating that protects your flooring has worn thin due to exposure to the elements. Nonetheless, stagnant or slow-moving water in a concentrated area causes avoidable damage to your floors if not addressed promptly. In this case, consult a professional to diagnose and resolve the issue. Otherwise, stagnant water in one area can cause unnecessary concrete damage.
Final thoughts
Concrete floors can begin to show signs of deterioration after five years. Take note that high-traffic areas and those that are exposed to water can age significantly faster. Therefore, regular inspections of your concrete flooring should be performed to prevent small cracks from becoming more prominent. Doing so will save money on potential repairs for more significant damage.
Furthermore, your concrete flooring must be repaired based on the nature and extent of the damage. The longer, broader, and deeper the damage, the more time and money you must invest. 
Concrete restoration is advantageous not only to preserve the aesthetics of your property but also to preserve the safety of your home. A well-maintained concrete floor will save you money and provide you with peace of mind.
Contact Fluid Concrete 
Fluid Concrete has Perth's top honed concrete flooring specialists. If you're building a new house or commercial property in Perth and you want the outdoor flooring to stand out, call Fluid Concrete immediately. 
We offer customised solutions for polished concrete to residential and commercial property owners in Perth. In addition to polished concrete, we also install liquid limestone and exposed aggregate for residential and commercial projects.