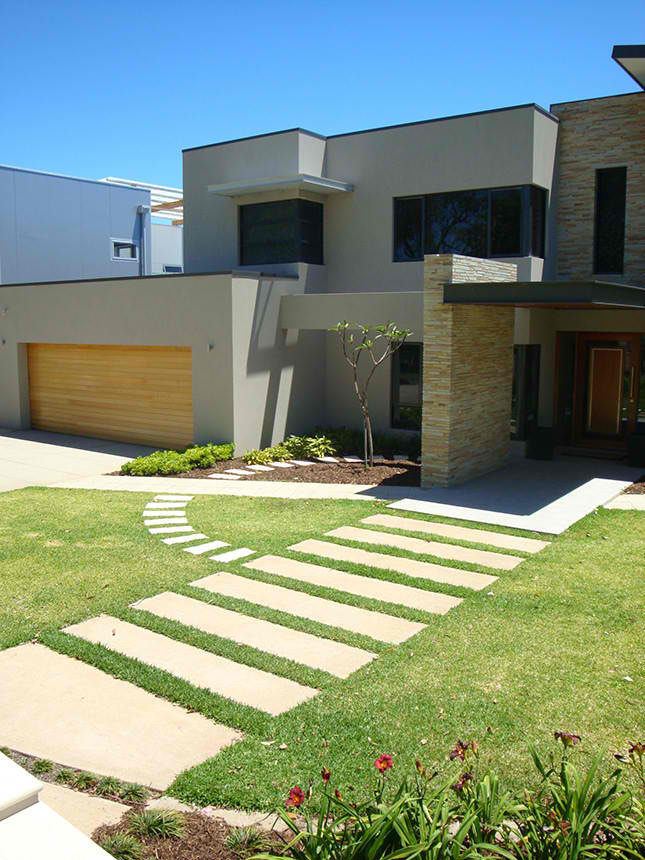 While these materials differ in some important ways, in others, such as the method of installation, they are remarkably similar. The steps outlined below are those we normally follow when working on both types of installations.
How We Approach New Installations
By carefully working our way through the following steps on each new job we undertake, we ensure first-class results every time.
All concrete, liquid limestone, and aggregate stones are mixed in batches & then measured out at the concrete batching plants located here in Western Australia,  We use a number of different companies and each has their own limited colour range consisting of about 20 different mixes
Preparation –Time required depends on the condition of the existing ground. Any debris, existing concrete or pavers need to be removed prior to the installation process starting,  Once clear we prepare the base for pouring spending time compacting, leveling and dampening the soil making Allowances for drainage and ensuring Australian Standards are met. Once we have the base ready  we are ready to begin
Fluid Limestone can remove the old drive, alfresco or pool surrounds and lay the new surfaces in either exposed aggregate, honed aggregate or liquid limestone.
We can also form stairs and pool surrounds in either bullnose or one complete form
Pouring and Leveling your concrete – The ready-mix concrete must be poured quickly to avoid drying, next it is screeded (leveled) to the agreed height, Now we Bull float the concrete to make it flat and smooth, getting rid of any rocks & holes,  followed by Hand floating the surface and to get rid of any holes or inconsistencies that may of been missed. This process is repeated numerous times to make the surface as smooth as possible.
Liquid Limestone Patterns – If you decided to have a pattern cut into your new surface, either for purely decorative purposes or to replicate the look and style of individual pavers, we may do this on the same day, before the surface is completely set, or the next day. We do not cut patterns in concrete or the aggregates only the control lines to avoid cracking.
Spray on Surface retarder–  we spray a surface retarder to keep the surface wet while the center dries and hardens.  We then cover with plastic to protect it from the elements & lock in moisture so the top doesn't set. The work for the day is now done,  we now wait for the newly laid material to dry.
* Drying times vary for the different types of material used see below for details.
Stage 2 of the process, Once the surface is dry
Clean Up & Seal –  We return to inspect and clean the new surface. Concrete and aggregate surfaces have control lines cut to help prevent cracks.
We then Seal the surface. This protects and helps to makes it more durable by weatherproofing against Perth's harsh weather conditions.  
Drying Times and final touches
Liquid Limestone Next Day – Sealant is applied
Exposed aggregate 3 – 7 days – Acid wash and Sealant is applied
Honed concrete Perth Honed next day & sealed 1-2 days later
If you would like a more detailed breakdown of exactly what we do when pouring new surfaces for customers in Perth and the surrounding area, please feel free to call and speak to us whenever convenient.