If you've admired pavement with a stunning pattern of rocks, pebbles, or shells, you would likely admire exposed aggregate. Standard concrete is given a decorative polish and exposed aggregate by removing the top layer of cement. Exposed aggregate is treated in various styles and hues to complement the residence's architectural design. Due to the capacity of the little stones to conceal skid marks and stains, exposed aggregate does not require as much upkeep as other types of surface materials. But a question a lot of property owners ask is, "how long will exposed aggregate last?"
In this article, we will be discussing how long exposed aggregate will last so you can understand how to maintain your pavement and learn when to reseal its surface.
What is the average lifespan of exposed aggregate?
When consumers consider installing an exposed aggregate surface, its durability is a primary advantage. Exposed aggregate concrete has the structural integrity of concrete, thus, it is incredibly durable and can survive for at least 40 years with adequate care and maintenance. 
Numerous variables can impair the durability of exposed aggregate, including surface fissures that are not properly filled and inappropriate care practices. An example of incorrect maintenance is the use of a high-powered water pressure washer, which can dislodge exposed aggregate if used at an angle that damages the pavement.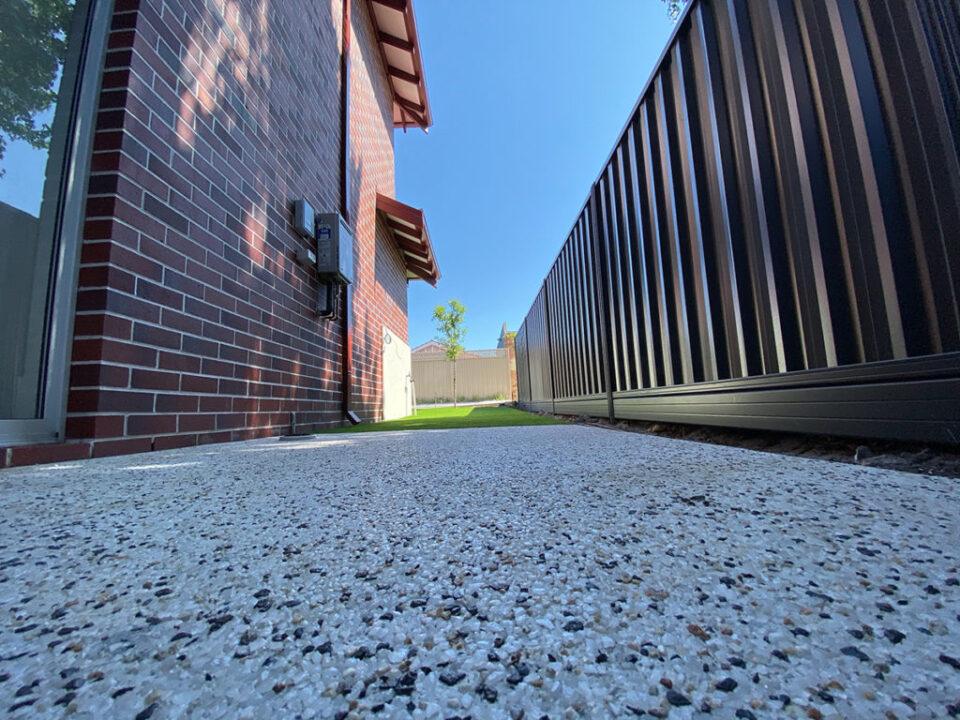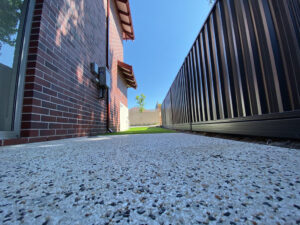 Regularly rinsing the exposed aggregate with a water hose to remove dirt and debris would be beneficial. You should reseal the exposed aggregate's surface to preserve its lustrous appearance and prolong its life. Due to the frequent contact between chemical imbalances and water that impact the surface of an exposed aggregate pool, the surface's lifespan is significantly diminished. The typical lifespan of pool exposed aggregate is between fifteen and twenty years before resurfacing, or considerable maintenance is required.
Helpful tips for maintaining your exposed aggregate
Once your exposed aggregate structure is in place, you should be able to extend its lifespan by decades through careful care and maintenance. Care for exposed concrete is relatively straightforward and needs minimal effort. Here is our maintenance advice for exposed aggregate:
Keep it clean as frequently as possible
Regular cleaning will considerably extend the life of your pavement or balcony. Use a broom or leaf blower at least once daily to remove accumulated dirt, dust, and debris. Wash your driveway at least once weekly with a medium-pressure hose to thoroughly clean exposed aggregate. As opposed to conventional concrete, we do not recommend using a pressure washer to clean exposed aggregate. High water pressure can displace exposed rocks and leave holes in your driveway or patio.
Get rid of unwanted stains 
Driveways made of exposed aggregate, in particular, will show wear and tear from vehicle tyres and other debris over time. Some typical stains are oil and grease, tyre skid marks, rust, and mould. Be sure to use the appropriate method for removing the stains before you start cleaning. A driveway cleaning solution can remove oil, grease, and tyre markings.
Let the solution sit for as long as instructed on the box. Use a broom with firm bristles to scrape the stain off the concrete before rinsing the solution away with water. Rusting is another stain that can reduce the aesthetic value of exposed aggregate. The iron and metals in bore water, as well as the aggregate itself, can induce rusting. Pebble blends may occasionally contain ironstone, pyrite, and rocks high in iron oxides.
When first mined, these rocks typically resemble ordinary grey boulders, but with time, they rust when exposed to the elements. As the rust accumulates around the offending particles, they can be easily identified over time. Rust stains can be removed from exposed aggregate with an iron stain remover. However, if you find any ironstones or pyrite in your exposed aggregate, you should remove them by drilling them out to prevent additional rust.
Adding a protective layer to your aggregate
Seal the concrete with a high-quality epoxy to prevent oil, grease, wetness, and stains when laying down your exposed aggregate. In addition to protecting your driveway or patio, the seal gives it a beautiful sheen. Over time, wear and tear from foot traffic, cleaning, and friction will wear down this seal. We highly advise that you reseal your exposed aggregate once a year to protect it and extend its life.
Hire a professional to assist you
Knowing that you are aware of how to maintain your driveway, we advise that you call professional exposed aggregate installers. If you need trusted specialists in your locality, then Fluid Limestone is the team you need. Our customers receive nothing less than the best outdoor flooring solutions in Perth. At Fluid Limestone, we value customer satisfaction above anything else. You will find that our services are prompt, efficient, and timely. Most important of all, we deliver customised solutions that will fit within your budget!