The home where you will be raising your kids is one of the most crucial aspects to consider carefully, including the option you will choose for your home's flooring. If you have a toddler and are considering installing polished concrete flooring, you may be concerned about their safety. Little did you know, polished concrete is the best flooring option for your home, children and pets. How do you ask? They are an aesthetically pleasing, durable, and distinctive flooring choice with numerous benefits for you and your family.
In this article, we will be going over why concrete is a child-friendly flooring choice with a multitude of benefits that you may not be aware of.
Why is concrete flooring safe for children?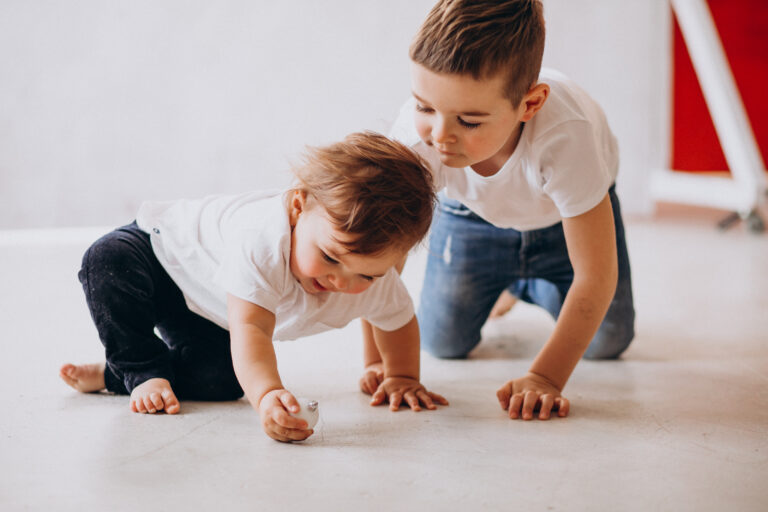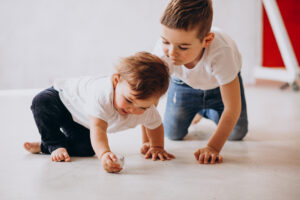 It may appear that allowing your child to stay on concrete would be detrimental to their development, but today we will examine what makes concrete flooring safe for toddlers:
Creates a safe space for your kids to learn to crawl and walk
As long as you take the same care as with other flooring materials, polished concrete flooring is an excellent choice for your home. As with tile or hardwood flooring, crawling and learning to walk on concrete surfaces pose no difficulty for infants. Due to their low weight, babies experience minimal pressure on their hands and knees, and the distance they fall from standing is significantly less if an adult were to trip or fall. Slip-and-fall incidents are an additional significant concern for parents regarding concrete floors. 
This is a problem that is relatively simple to solve. You can put anti-slip coatings on your polished concrete floors to lessen the risk of your child slipping. You do not need to be concerned about slip-and-fall incidents by taking the appropriate safety precautions. Your child will be able to crawl, walk, and run freely. You should be able to have peace of mind if you keep sharp and fragile objects out of the way. 
Concrete floors are hypoallergenic
As parents, we never want to watch our kids suffer from any ailment. With concrete flooring, you ensure that your child will be able to avoid allergies and other respiratory difficulties they are experiencing. Polished concrete floors are hypoallergenic and will not trap allergies, dust mites, mould, mildew, germs, or moisture, making them the ideal flooring choice for allergy sufferers, asthmatics, and those with other respiratory conditions. 
Unlike carpets, concrete does not contain fibres. Additionally, there are no crevices to consider. Wood floors do not offer the same amount of safeguarding because allergens, such as dust mites, can hide and linger in the spaces between the boards. Polished concrete flooring is a cost-effective and inexpensive method for reducing asthma symptoms and other respiratory conditions.
Concrete floors do not require a lot of maintenance
In addition to being hypoallergenic, concrete is also very sanitary. It requires minimal maintenance and upkeep. When you have children at home, you understand the difficulty of constantly cleaning up after them. They may be carrying food and drinks when they trip, necessitating the need for further cleaning. The last thing you want to consider while you're busy with life and raising a family is cleaning and maintaining your flooring.
To clean your polished concrete flooring, simply wipe it down with a microfiber towel and voila, weekly cleaning is no longer required. Spills are similarly simple to clean up quickly. We know that toddlers can be messy, regularly spilling food and drinks, and the family's new puppy is not yet toilet trained. Concrete flooring that has been polished is the optimal option for family homes. Additionally, concrete is hygienic since it does not retain moisture like other floorings.
 Consider that the liquid will become trapped if you spill anything on a carpeted or wooden floor. Even after wiping it away, you may not realise that mould and germs are forming in the carpet fibres or in between your floorboards. They might easily infect the toys and food of your children, which you already know will hurt them. In addition, unlike tile floors, they lack grooves, making them incredibly easy to clean and maintain. Spilt cereal, juice, and noodles are simple to wipe up on polished concrete. Concrete floors can also withstand the abuse of a young child. Additionally, they are resistant to wear and tear and can endure up to a century worth of foot traffic.
Concrete floors are scratch resistant
Inevitably, your flooring will take a hammering due to environmental factors. If they were scratch-proof, however, you could redecorate without worrying about marking the floor with your heels or scuffing the surface with your leather shoes. Polished concrete floors are resistant to scratches and spills, making them ideal for busy households.
Concrete floors are cost efficient
Your family's expansion necessitates daily financial support for basic needs. Concrete floors have become cheaper over time. They are a worthwhile investment because they are constructed to last. An expanding family must save money in order to afford daily expenses. They can last a lifetime so that you can forget about the maintenance and repair expenditures associated with other flooring materials.
Additionally, it is believed that concrete flooring reduces energy use. Consequently, your utility expenditures will be significantly lower than those with carpets, tiles, or wood. The thermal properties of concrete make it perfect for retaining warm and cold air within a home. During the summer, the material can retain the cooling effects of air conditioning and fans and heat during the winter.
Bottom line
You'll appreciate the sleek and pleasing aesthetic that a polished concrete floor will bring to your home. This refined system will look stunning anywhere within your home. In addition, they provide an abundance of other benefits for you and your children. A polished concrete floor is ideal for any residence. If you have children or pets, you understand the difficulty of maintaining a clean home almost every day. Possessing a polished concrete floor is one way to put your mind at ease. Durability and low maintenance make cleaning simple and easy, even in the most chaotic residences.
If you are in search of honed concrete specialists, then Fluid Limestone is the team you have been looking for! Satisfying our client's needs is our first priority here at Fluid Limestone. The 
flooring options we provide our clients in Perth are unmatched. To do this, we will assemble a hardworking group of professionals with relevant experience eager to take on any challenging, forward-thinking design projects. Promptness, efficiency, and on-time delivery—are the hallmarks of our service. We provide solutions that are tailored to your specific needs and financial constraints. We regularly experiment with new materials in order to meet the needs of a wide range of clients at affordable prices.