When it comes to designing a restaurant, the choice of flooring is sometimes left as an afterthought. In fact, most restaurants settle for just concrete, vinyl, and even laminate floors. While these options aren't bad by any means, they just don't provide the value, functionality, and aesthetics that both honed concrete and epoxy floors can provide.
honed concrete is a type of flooring that's composed of stunning aggregates that are honed down to a smooth finish. On the other hand, epoxy flooring is made up of a resin and a hardening chemical to create a synthetic, stain-resistant surface. Both materials hold up well against heavy foot traffic, are relatively easy to clean, and possess slip-resistant properties, making them an excellent choice for almost any restaurant floors.
Here's why you should consider honed concrete and epoxy floors as part of your restaurant's design philosophy.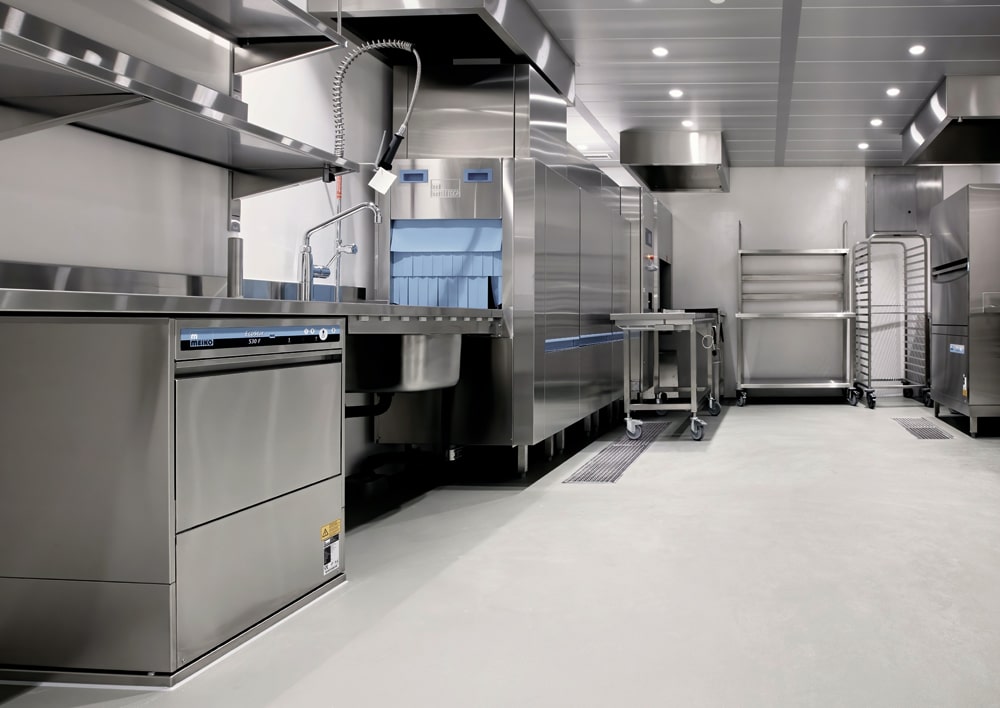 Honed concrete is long-lasting
honed concrete is one of the most durable flooring options out there. It's very resistant to cracking and is guaranteed to last for a lifetime when well-cared for. Even with heavy foot traffic, honed concrete does well with resisting chips and scratches. If you want your restaurant floors to remain clean and modern for decades, you definitely want to go with this flooring option.
Investing in honed concrete floors is a cost-effective way of maintaining your restaurant. Provided that you contact a reputable installer to do the project, you won't ever have to worry about replacing or repairing your restaurant's flooring.
Honed concrete is very low-maintenance
One of the highlights of honed concrete is that it's very easy to maintain. This is because the flooring is coated with a sealant to prevent dust, dirt, debris, and even food stains from ruining its appearance. All you really need is to dry mop the surface with a microfiber cleaning mop and wet mop it once a week to help maintain its glossy shine. Check out this article for some tips if you're considering honed concrete.
Above all, honed concrete surfaces are highly sanitary. Because they're sealed off, there's no room for mould, mildew, and bacteria to grow and harbour. The usual problem with concrete is that it's inherently porous, meaning that microorganisms can enter the holes and crevices where they can grow. You won't experience any of those issues with honed concrete which is a major plus for maintaining the health and safety of your customers.
honed concrete floors are slip-resistant
Restaurants can be quite messy and sometimes spills can contribute to slip hazards. With honed concrete floors, you can greatly reduce these hazards since they possess slip-resistant qualities. honed concrete surfaces provide great traction underfoot and this is due to the anti-slip grit additive applied to the flooring. While no surface is truly slip-proof, it does give sufficient traction even when wet.
For commercial kitchen applications, we recommend using epoxy flooring instead. Epoxy floors are quite similar in looks compared to honed concrete, but they do offer better slip resistance where even oily substances won't affect foot traction. Whichever one you choose, you're sure to get a slip and skid-resistant surface that's hard-wearing and easy to clean.
Honed concrete floors look stylish
Great restaurateurs know that ambience plays a huge role in a satisfactory dining experience. Serving good food in a modern and relaxing atmosphere is what customers are always looking for and it's for this reason why many are leaning towards honed concrete. You can choose from a variety of different aggregate mixes, surface finishes, and colours to create a statement look. No matter the theme of your restaurant, you can reflect that on your flooring with smooth, clean lines and decorative designs.
If you want your restaurant to stand out from the competition, you can also use honed concrete on countertops, bars, and tabletops. Pair it up with aged woods to create that warm look and feel or expose decorative stones for a truly striking appeal.
Honed concrete is easy to install
For restaurant owners who are looking to design their new restaurant or are just simply preparing for a renovation, you'll be happy to know that installing honed concrete is a speedy procedure. Most installations under 100m2 can be completed within 4 days which is great news for reducing downtime. No need to shut down the restaurant for more than week unlike with installing other conventional flooring choices. Of course, this can only be achieved by working with a professional honed concrete installer to ensure the project is finished with quality in mind.
Choosing between honed concrete and epoxy flooring
The big question is, which material should you choose for your restaurant's flooring? In our experience, we find that honed concrete is best utilised for dining areas, entrances, and areas with heavy foot traffic. The combination of aesthetics and durability is what makes honed concrete an appealing choice for covering a wide area of your restaurant.
Epoxy floors, on the other hand, are best suited for commercial kitchen applications that take advantage of its hardiness and superior slip-resistance. Since epoxy floors resist chemicals fairly well, you won't have to worry about maintaining its appearance since it will hold up on its own just fine. Either way, these two materials can definitely enhance the overall look and feel of your restaurant and give you the most value-for-money experience out of all other flooring choices.