Designing an outdoor area with suitable patio materials will make it a simple to maintain and visually pleasing addition to your backyard. Choosing the ideal surface for your outdoor space will do more than just provide a nice place to lounge around and unwind; it will also set the tone and determine the overall aesthetic of your home. It is crucial to know your options before making a decision. Then you will be able to find the best choice for your taste and budget. With so many patio materials to choose from, weighing what each one offers, their drawbacks, and its durability against the elements before making a purchase is essential.
In this article, we will be giving you our Complete guide to the best patio materials, so you can find which best fits your home and your preferences.
What is the Best Material to Use for a Backyard Patio?
Natural Stone
For a patio with a completely natural appearance, nothing beats natural stone. Due to its natural hues, natural stone is ideally suited to a garden setting. There are numerous varieties of natural stone available, such as flagstone, slate, bluestone, and limestone. The appearance and durability of Natural Stone may attract homeowners, but its uneven surfaces can make it difficult to walk on. Stone can also be heavy and difficult to fit together when laying out a patio due to its irregular shapes. The cost can be the most significant factor. 
Brick
Bricks have been manufactured by firing a mixture of clay and other raw material in a furnace for thousands of years. It is durable, long-lasting, and has a neat, classic appearance that complements a variety of landscape and architectural styles. While you may believe that all brick patios must be red and very linear, this is not always the case. In addition to red, bricks are available in tan, black, and other colours. A brick patio can be made more attractive in a number of ways, one of which is by using a distinct colour. Consider building a pattern with the bricks. Herringbone, which alternates bricks at a 90-degree angle, and pinwheel, which forms a square with four regular-sized bricks and a half brick in the centre, are popular patterns.
Tile
Ceramic or porcelain tiles can create a patio with a distinct style. There are a variety of tile styles that can create a seamless transition between indoors and outdoors. Although these tiles may resemble the tile you would use in your bathroom or kitchen, you must use exterior-grade tile and grout. To prevent damage from seasonal freezing and thawing, it is also essential to use tiles that are not very porous or that do not absorb a great deal of water.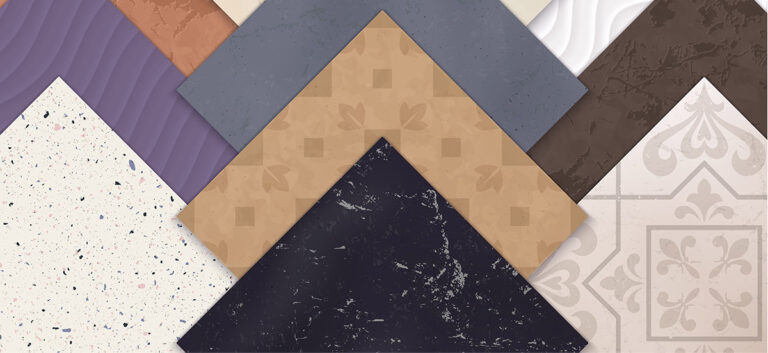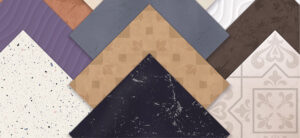 Unglazed tiles are typically the best option for large walking areas because they are less slippery than glazed tiles. Tile does have some potential downsides. It can be slippery, so it may not be ideal for spa or pool areas. It may also become slippery if it retains water for an extended period of time, allowing algae to grow on its surface. Lastly, tile is typically more expensive than brick and sometimes even stone.
Gravel
While they may be a pile of small stones, Gravel is typically associated with grand, winding driveways and historic properties, but it can also be used for small patio designs. The material varies in colour, texture, and composition and is frequently a mixture of different types of stone. 
It is easy to walk on and maintain decorative Gravel. It is ideal for informal planting and is an excellent choice for patios, garden paths, and planting areas or borders. A Gravel area requires a retaining wall to define it and prevent the stones from pouring into other places.
Concrete
When none of the other choices tickles your fancy, why not go for a Concrete patio? Concrete consists of cement, sand, and gravel combined with water to form a gummy, dry-hardening substance. Concrete consists of aggregates and paste; aggregates can be crushed stone, sand, gravel, or even shells, while the paste is composed of water and cement. Since concrete is semi-liquid, it can be moulded into virtually any shape or size. Poured cement is a very affordable option for creating a patio with a flat, hard surface that requires minimal maintenance. For a patio floor, it would be difficult to find a more versatile and adaptable material than concrete. It is simple to install, and exposed aggregate or even carefully cut shards of glass can be added. This tried-and-true recipe combines sand, water, cement, and gravel and provides even more options than brick. 
Bottom Line
Whether you are renovating or installing a new backyard patio, there are several different types of materials you could use. Your chosen material should revolve around your budget, taste, and weather conditions. Although it is hard to classify which material is the absolute "best" for you, we highly recommend trying out concrete. The most popular material for backyard patios is concrete. It is adaptable and can be used for any size patio you want. Additionally, it is an excellent option for installing an in-ground or above-ground pool.
If you are looking for professional exposed aggregate specialists in Perth to take a look at your backyard, then Fluid Limestone is the team that you need to get in contact with! If you are building a new home and looking for the best possible way to utilise your outdoor space and complete your property's look, there's no need to look further. We understand your needs and can help you provide the best outdoor flooring solutions that look great and will last you for years. Even if you are looking to renovate your outdoor space to give your house a complete makeover, we can work within your budget to build attractive layouts. We specialise in driveways, pathways, patios, and pool areas. Based on your requests, we can also work with our materials at any location you choose. At Fluid Limestone, client satisfaction is our highest priority!