When cutting, drilling or grinding liquid limestone, there are two primary methods of managing harmful concrete dust and that is dry cutting and wet cutting. Knowing when to use each cutting method is crucial to the overall health and safety of the workers. This can also help determine the appropriate machinery for the task, thus preserving the condition of other equipment whilst reducing environmental impacts at the same time.
In this article, we'll be taking a look at both dry and wet cutting to see which one is best for handling concrete dust.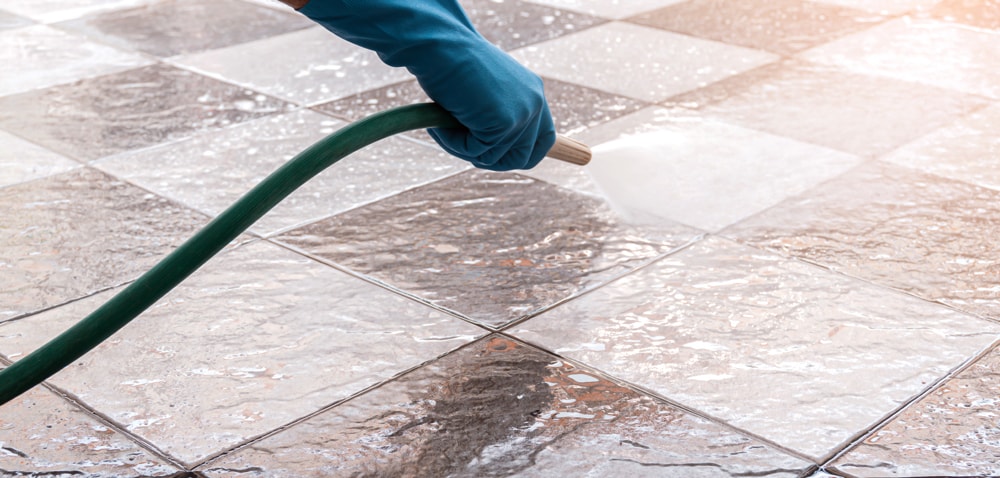 The dangers of concrete dust
There are inherent dangers when cutting liquid limestone (or any concrete for that matter) and that is concrete dust. These tiny particles can pose a significant risk to one's health, especially when exposed to on a regular basis. Silica dust from concrete is so fine that once it gets inhaled, it goes into the lungs and cannot be expelled completely. This leads to a health condition known as silicosis. Silicosis is a type of lung disease that cannot be cured and can have lasting health effects depending on the amount of exposure. Cutting concrete indoors with limited airflow can increase the risk of silicosis which makes it crucial to take the appropriate measures.
Wet cutting
As the name suggests, wet cutting involves using water as a means of managing concrete dust so it doesn't become airborne. This allows for more control over concrete dust as well as the temperature of the cutting blade. Wet cutting is very safe and efficient, allowing the worker to make precise cuts since the blades operate at a high RPM. But since there's a constant stream of water around, the job site can end up quite messy.
Benefits of wet cutting
Studies have shown that wet cutting is 85% more effective in containing dust than using other dust extraction techniques. Blasting water directly at the cutting surface limits the chance of concrete dust from flying in the air which reduces the risk of being inhaled or settling in nearby surfaces. Cutting blades will also last longer as the water acts as a coolant and a lubricant at the same time.
Drawbacks of wet cutting
While there are plenty of benefits to wet cutting, it does come with its own drawbacks. For one, It requires a steady stream of water supply either from a portable reservoir or through the mains. Wet cutting is also limited to equipment that can safely be used with water when cutting. Lastly, there needs to be sufficient containment and disposal of the concrete slurry (a thick paste that forms when concrete dust and water are mixed) so as to keep the workplace clean and hygienic.
Dry cutting
Dry cutting uses segment welds that are designed to prevent overheating, and as a result, they don't require a coolant to lower their operating temperature. This makes dry cutting more suited for smaller jobs where clean cuts can be achieved with low RPM. Decorative patterning is one example where dry cutting excels over wet cutting
This type of saw is suitable for most jobs that require intermittent cutting of shallow cuts. This means that the cut would be made for about 30 seconds before the saw is pulled away for a short break of about 10 seconds. Keep in mind that these cuts must be straight, being all a dry-cutting blade can handle.
Dry cutting jobs are very clean and relatively simple to complete. Contractors tend to favour dry cutting saws for indoor work since they leave a cleaner job site.
Benefits of dry cutting
Dry cutting is far more versatile than wet cutting since there's no need to connect to a water mains. Electrical saws can also be used with an extractor with zero risks of electrocution. Lastly, cleaning concrete dust is much easier since the particles are contained in a plastic bag.
Drawbacks of dry cutting
The main disadvantage of dust extractors is concrete dust. This method of cutting allows the particles to become airborne, thus increasing the risk of silicosis. No matter how good the extractor is, there will still be concrete dust in the air. Diamond-coated blades will also wear down much faster when used for dry cutting. Lastly, the captured concrete dust still needs to be disposed of appropriately.
When cutting concrete, it is important to be aware of the pros and cons of both cutting methods Dry cutting and wet cutting both have their time and place, but when it comes to concrete dust management, it's clear that the latter is the more effective option. Inhaling concrete dust is a serious health risk and steps must be taken to limit exposure to these particles as the damage it can cause is irreversible.