When you think of concrete flooring, one of the first questions we get asked is "but isn't it cold?" Yet it is one we are always happy to debate. It can be difficult to imagine concrete flooring being comfortable if you haven't experienced the benefits. What may look cold or industrial can actually instil all-year-round comfortable temperatures within the home. 
Concrete is a highly compacted material and has a high thermal mass. Thermal mass is the ability to absorb heat from the sun and radiate it out during the evening when temperatures drop. During the day heat spreads deep into the flooring when temperatures are reduced, then returns to the room at night. 
In addition to increasing comfort in the home, it is a form of energy conservation as it relies on limited natural sources for heating and cooling. With no increased costs and environmentally friendly, it is easy to see why concrete is a smart flooring choice for your home.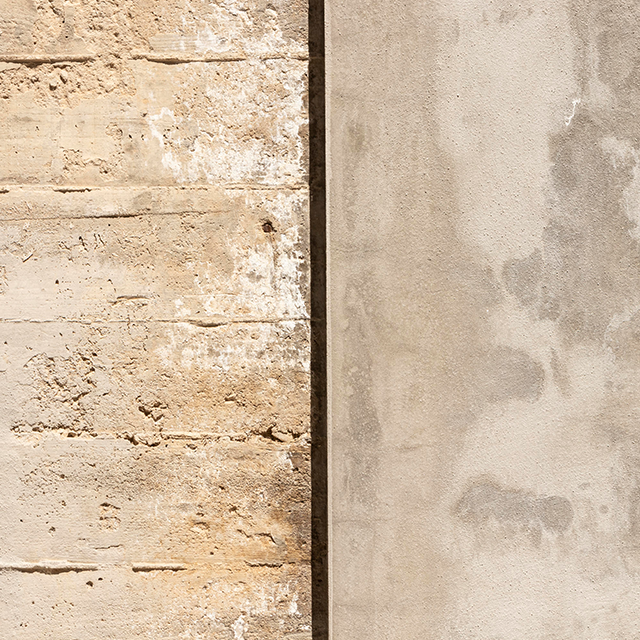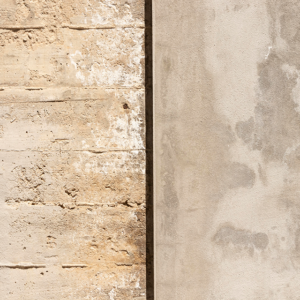 The style of concrete slab-on-ground is the most economical way of finding mass within a building. Passive heating and cooling are maximised far more than suspended slabs. When the concrete has direct contact with the ground, greater thermal mass is produced. This has the effect of earth coupling. 
An uninsulated slab will draw heat from approximately 3 metres down as the properties prevent heat loss. The slab assumes this higher temperature, which in Australia ranges from 16° to 19°C. During winter, daytime temperatures are stored using thermal mass within homes. As cooling temperatures approach, storage of solar heat gain from north windows and heat from the earth below the slab is used. Passive solar or other heat sources are more functional due to the lower temperature increase required to achieve a cosy home. During summer, the cooler earth can effectively take away the heat. 
Luckily the majority of the Australian population inhabits climate zones that gain from earth coupling. The best way to utilise this is to polish the concrete slab, yet once other flooring materials are placed over it the chances of earth coupling reduce.
Thermal mass is most appropriate in regions where the diurnal temperature range is common.  Here in Western Australia, honed concrete flooring is often a popular flooring choice due to the high rates of diurnal range and slab-on-ground construction. So much so it is often locally referred to as "Margaret River Marble". 
To achieve maximum comfort, it is recommended to design your home with solar passive principles in mind. When used properly, thermal mass can retain comfortable temperatures year-round. When considered, it is important to concentrate on the northern zones of the home. With north face double glazing, you can achieve free solar gain, adding approximately 4-6° degrees. 
To work you must have a smart building design with controllable shading, with the usage of natural/mechanical ventilation. The majority of windows should aim to face north or south. East and west windows will receive minimised exposure due to low sun angles, which can trigger overheating. During winter, large windows and double-glazing work well to capture heat during cooler temperatures. High set louvred windows allow summer heat to escape freely.
Positioning windows and openings correctly will encourage air movement and cross ventilation, leading to reduced power bills and energy production. Not only will you achieve the maximum benefits of a concrete floor, but the ecological impacts of burning fossil fuels is decreased immensely. 
Constructing your home with solar passive principles in mind will always lead to you enjoying the biggest advantages of a concrete floor. Yet what can you do when your house cannot incorporate solar passive design? Can you still enjoy the cost-effective, energy-efficient benefits of honed concrete? Is it possible to choose this flooring option without having to deal with intense climate changes through seasons?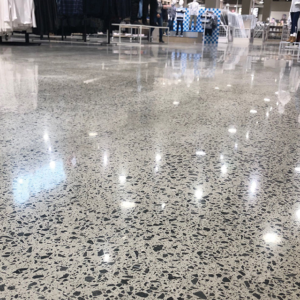 The short answer is yes. Firstly, it is recommended to eliminate any insulated floor coverings such as carpet from the concrete floors adjacent to north-facing windows. You should then work to maximize the amount of sunlight the concrete is exposed to during the cooler months and minimize the sunlight during summer. For example, leaving blinds or shutters closed during warmer temperatures and open during cooler temperatures. Assure there are no rugs kept where winter sunlight hits the concrete.  The use of external heat and cooling sources such as a heater and air conditioner will help guarantee the surrounding atmosphere will always be a regulated temperature.
If external influences prevent solar access, insulation may be a good idea. Insulation with double glazing will help achieve maximum benefits of thermal mass.  Yet a house with large amounts of insulation and shading will require night purging. Open up windows in the evening to allow heat to escape, which will incite passive cooling. 
So, if you have been considering concrete flooring yet have been indecisive due to concerns about it being cold, maybe it is time to start pulling up your current flooring and giving it a go. Saving money on heating and cooling is a big plus for any homeowner. Yet you will also reap the benefits of living in a continually pleasant environment, while also helping achieve significant environmental advantages. When researched and used properly, thermal mass in concrete can help maintain comfortable temperatures in your home year-round. Purchase today and you will be pleasantly surprised with the outcome and wellbeing of your home.