A pool deck is the hardscape area around a swimming pool that traditionally uses wood or composite. But in today's world, a pool deck can be made anywhere from concrete, pavers, or even stone. Pool decks and patios are landscaping elements that add usable space and create a smooth surface near your pool. They combine both beauty and functionality which helps enhance the overall appeal of your property.
The question is, which material do you use for your pool deck and patio? You want to choose a material that not only looks good, but also provides good drainage to keep water out. Today we'll be discussing the different materials that you can use for your next pool deck and/or patio project.
What to consider when choosing the materials
There are a couple of things you should consider when selecting a material for your pool deck or patio. Some of the things to consider are:
The material must be slip-resistant, especially when wet.

The material must be able to dissipate heat and keep the surface cool on hot days.

The material should blend well with other hardscaped or paved areas around it.

The material should be resistant to mould, mildew, and algae growth.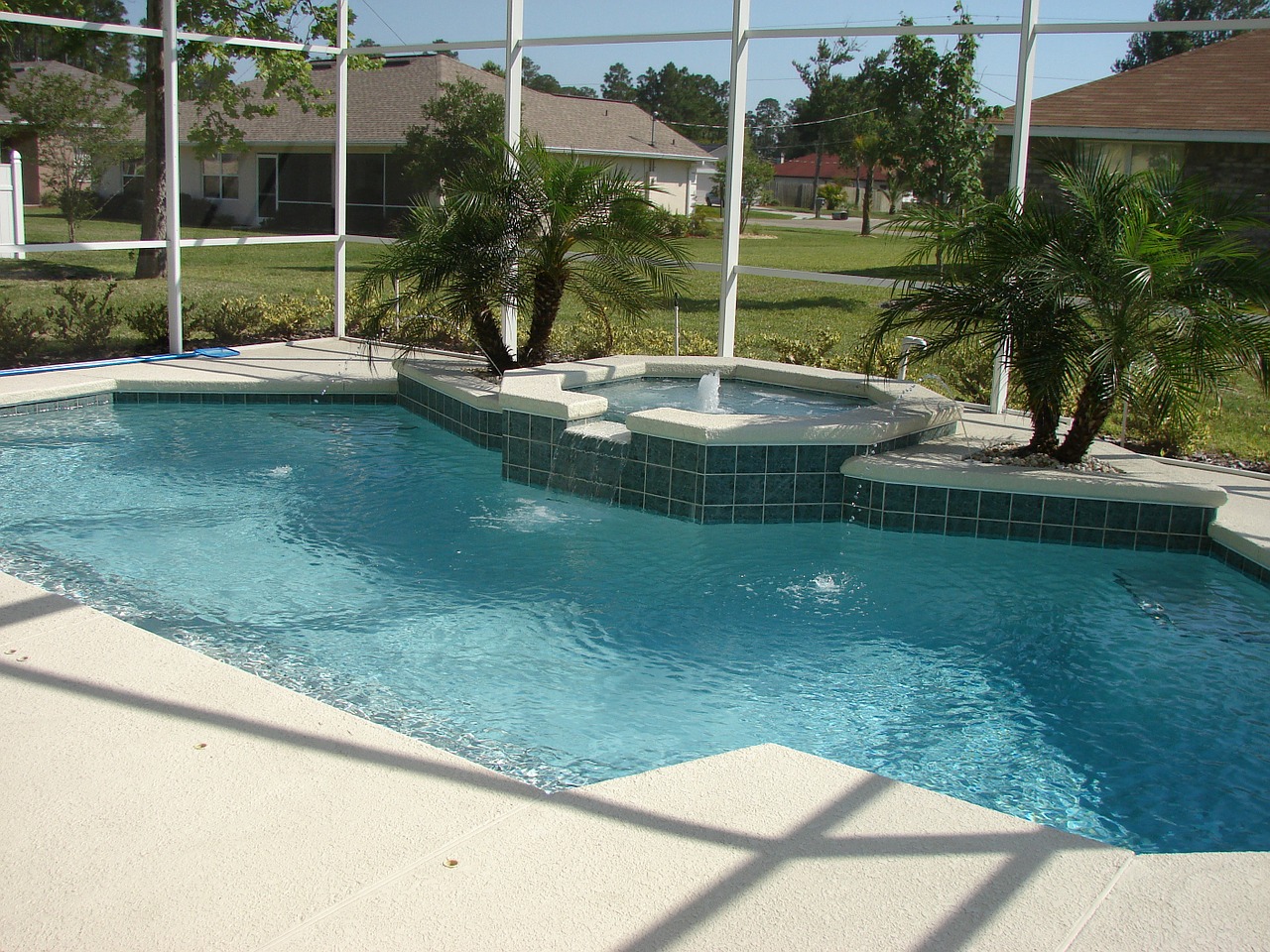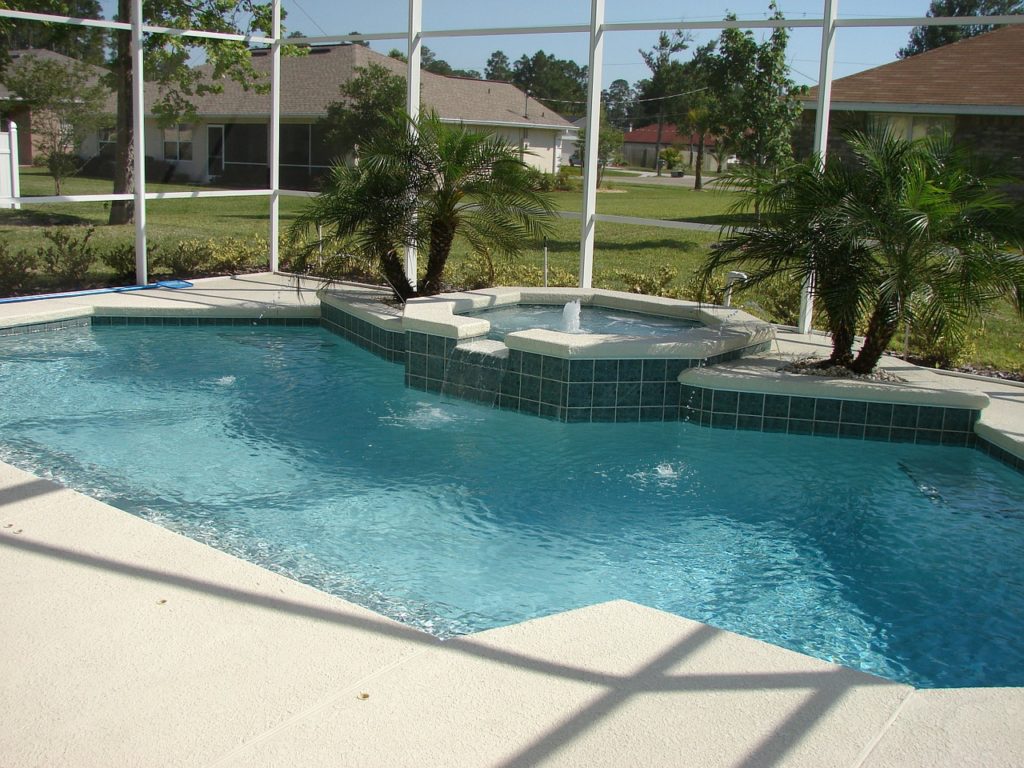 A good material for pool decks and patios is capable of retaining its functionality, even when exposed to a variety of conditions. This makes the pool much safer and the aesthetics won't ruin over time. Now, let's take a look at the variety of pool deck materials and highlight their pros and cons.
Concrete
Concrete is a popular choice for pool decks and is available in a wide range of colours. Certain types of concrete like the mid century and contemporary ones provide clean, uncomplicated lines for a pool deck that add a modern appeal. Pool decks and patios made of concrete should only be poured by an experienced contractor to prevent cracks and weed growth from invading it.
     Pros:
Feels good underfoot and relatively easy to maintain.

Doesn't absorb too much heat when the temperatures are high.
     Cons:
Pavers
Pavers make for an excellent hardscaping material and come in plenty of different shapes, sizes, and colours. Pavers for poolside patios are commonly made of aggregate, concrete, and stone. Interlocking concrete pavers are a popular choice because they add a rustic appeal and resemble granite, cobblestones, and tile.
     Pros:
Budget-friendly option that's stylish in appearance.

Easy to repair and replace when a paver gets damaged.

When installed properly, interlocking pavers are frost-resistant.
     Cons:
The joints between the pavers should be filled in correctly to prevent shifting or erosion.

Concrete pavers can look rustic and industrial, which is not necessarily a bad thing if your property appears more modern in appearance.
Stone
Stone is a naturally-occurring material that provides good texture and slip-resistant qualities. It can enhance any landscaping and architectural features in your backyard and are available in many different types. Flat stones are the ones used for paving projects and is usually made of sandstone, limestone, granite, and quartzite. Stone gives off a natural look for pool decks and patios which is great for a contemporary home.
     Pros:
Available in a wide variety of shapes, and sizes ranging from square, triangle, and even irregular designs.

Can be cost-effective depending on the type of stone you choose.
     Cons:
Darker-coloured stones may absorb heat more than the lighter ones.

Inexpensive stone can sometimes be made of faux stone which compromises its quality.
Tile
Tiles give your pool deck that ultra-modern look, but be careful as the glazed varieties can be dangerous because it's very slippery when wet. Tile is graded by slip resistance and if you really want to use it for your pool deck and patio, choose one that is unglazed (such as saltillo) and water-impervious porcelain so it can withstand frosts and freezing.
     Pros:
Adds an upscale look to your pool deck.

Creates a seamless indoor-to-outdoor transition when using the same tile.
     Cons:
Artificial turf
Some people prefer the feel of a freshly manicured lawn underfoot which is why they use artificial turf for their pool decks. If you live in a region affected by drought, then synthetic grass could be the material for you. It's very low-maintenance and gives off a traditional backyard look to your property.
     Pros:
No mowing involved. The artificial turf will look freshly cut no matter the weather conditions.

Doesn't dry out and turn brown like real grass does.
     Cons:
Some types of artificial turf can get hot underfoot, especially when exposed to long periods under the sun.

Synthetic grass is non-biodegradable. If you're being eco-friendly, this may not be an option for you.
Making the decision
Choosing the right material for your pool deck isn't just a matter of looks. You have to consider the characteristics of the material to determine which one best suits your application. These 5 materials work great for pool decks and will definitely add to the character and appeal of your property. Make sure to ask your contractor on which material works best for your pool deck to get an ideal recommendation.