Although exposed aggregate dates back to the 1920s, it remains highly prevalent today. Specifically, this material has grown to become a popular option for improving the appearance and functionality of driveways. It's no wonder it can be found in various places such as sidewalks, patios, pool decks, pathways and plazas. 
Continue reading if you want to incorporate this material into your home or property. This article will help you find out if exposed aggregate is right for you.
What is exposed aggregate concrete? 
Exposed aggregate layers are a decorative style where the base is made of concrete, with the top layer exposed to reveal the underlying aggregate materials. This material is also known as a concrete overlay, exposed concrete or concrete aggregate. Moreover, the mixture of the concrete aggregate is composed of water, cement, sand and the desired aggregate you want to incorporate in your design. Furthermore, aggregates can be crushed stone, pebbles, gravel, or granite. 
Benefits of Exposed Aggregate Concrete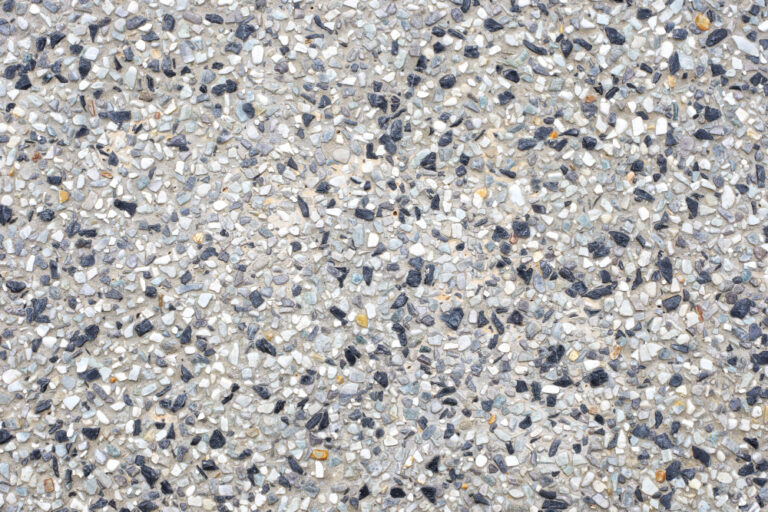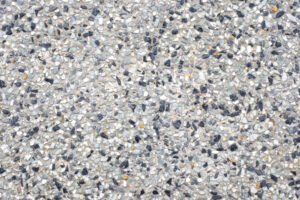 Durability- Exposed Aggregate Concrete is as strong as concrete and can withstand heavy loads. Moreover, homeowners choose the material because not only is it heat resistant but also water-resistant. Another feature worth mentioning is that the structure can last for over forty years without cracking when adequately laid.
Low-Maintenance- Concrete aggregate finishes in public squares, parks, and historical sites last for more than ten years with little or no upkeep. This means that you will not need to paint or coat the surface. Besides resealing every few years, a simple cleaning will be enough to restore its decorative material. 
High Decorative Potential- With aggregates available in various colours, shapes, sizes, and textures, the design possibilities for your concrete driveway are endless. Therefore, you can easily match the result to your home's design.
Affordability- Both concrete and aggregate are known to be cheap since they are readily available resources. Thus, spending a fortune on your driveway will highly be unlikely compared to other options. 
Slip-resistance- Skid-resistant exposed aggregate concrete reduces the risk of falls and accidents. Moreover, the texture of the materials used ensures your safety when passing your driveways.
Value Boost for Homes- Exposed aggregate concrete driveways undoubtedly add elegance and character to your home, which ultimately increases the value of your property. If you put your house on the market, potential buyers will appreciate your property more. 
Cost of installation
As mentioned earlier, the materials for exposed aggregate concrete driveways are not as expensive as other choices since they are readily available locally. Furthermore, the actual cost is revealed when you add up all the necessary expenses for installing aggregate concrete. However, the overall price to install exposed aggregate will typically include materials, labour, excavation, residential site clearing and preparation, taxes and permits, and other costs and considerations specific to your area. 
Colours 
Major components to attain the colour for your exposed aggregate concrete are naturally occurring and are obtainable locally. One advantage of having a lot of colour options with your driveway is that it will be significantly easier for you to match the design of your driveway with your home to make your property more appealing. 
Furthermore, the most common colours are black, grey, charcoal, white, and beige, in different hues. If you want to know about other options, you can contact your contractors, and they will gladly show you the colour guide of over 50 different aggregate colours. If you still can't find the colour you want, manufacturers can come up with a custom shade only for you. 
What are the methods to expose aggregate? 
Brushing and washing- This is a conventional method where you don't have to use chemical retarders or special tools to expose the aggregates. It is considered the oldest and simplest method, where you will only need the help of water and a broom. First, spray the surface with clean water and scrub it with a broom until you arrive at the desired depth. 
Use of surface retarder- This is done by immediately spraying a chemical retarder onto the slab. The cement paste can be removed after a day by scrubbing or pressure washing. The delay can be advantageous to contractors during hot weather and when they have large jobs to accomplish.
Abrasive blasting- This method is also known as shot blasting or sandblasting. When the concrete becomes hard, this method uses a sandblaster to scrape the cement out from the surface. However, one drawback of using abrasive blasting is that it can result in a rather dull appearance. Therefore, do not use this method if you want to preserve the aggregate's colour and shape. 
Common types of aggregate
Granite- This is the most common type of aggregate found in the market. It comes in a variety of colours such as pink, white, and different shades of grey and red. 
Gravel or ballast- Meanwhile, this is a modern type of exposed aggregate which is becoming popular nowadays. Gravels or ballast can be obtained from quarries, or they may be extracted from natural rocks we see in the river or sea beds.
Can you install your exposed aggregate concrete?
Special equipment and expertise are needed to successfully complete the exposed aggregate concrete installation. Therefore, the best option is to hire professionals. Not only are they more equipped and capable of doing the job, but they can also even help enhance the appearance of your concrete. They will also help you throughout the planning process to make sure you get the driveway you have always wanted.