One of the most common questions people ask regarding honed concrete is whether or not it can be used for outdoor applications. While concrete is a versatile and extremely resilient material, the disadvantage to a high gloss finish is that the surface becomes slippery when wet, meaning it's not suitable for use in wet weather conditions.
The good news is, there are other options available. Honed concrete and grind and seal concrete surfaces are two possible options homeowners may choose from. These surfaces make concrete ideal for outdoor usage so you can attain that concrete look in areas such as swimming pools, external pathways, commercial foyers, and outdoor entertainment areas.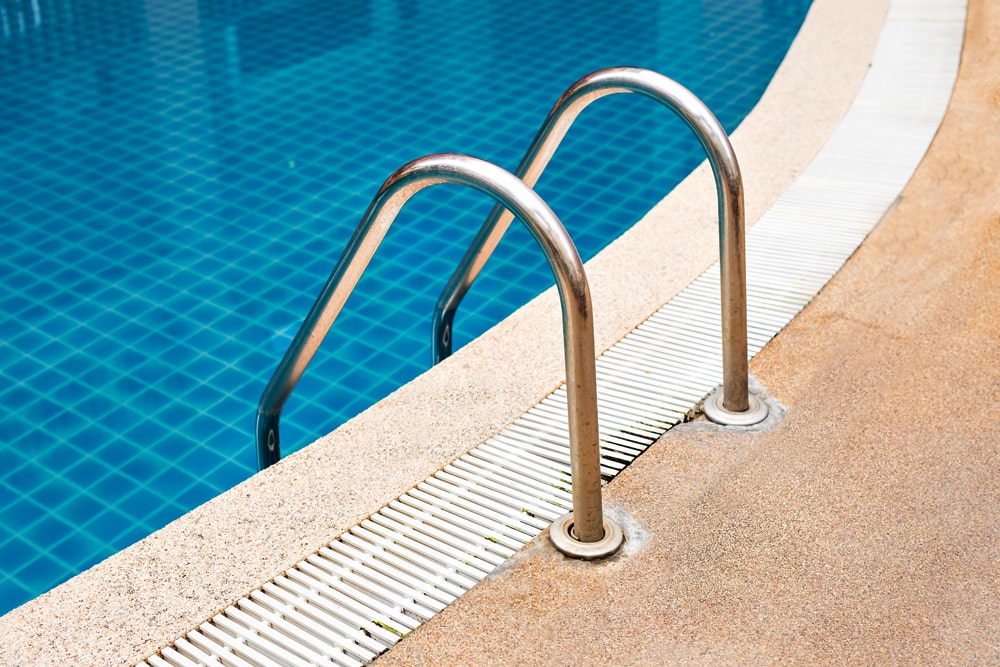 What is honed concrete?
Honed concrete is a type of concrete flooring where the surface is ground to a level that the consumer desires. This exposes the sand and stone underneath the concrete surface and varies from nil, minimum, and up to full exposure.
After the surface has been ground, the concrete floors are then honed using a diamond grit polishing compound with different levels of grit to achieve the desired shine. Typically, finer diamond grits contribute to a shinier concrete surface after the project has been completed.
While a highly glossy concrete floor looks excellent, the drawback is that it can turn slippery when wet. This means that a matte finish is a more suitable choice for outdoor applications to minimise slip hazards and promote good traction underfoot.
After the concrete has been honed, a sealant is applied to safeguard the concrete from stains and discolouration. Since the sealer is absorbed into the concrete, it can't be damaged, worn away or scuffed by hefty foot traffic, making it a lower-maintenance and longer-lasting option compared to grind and seal concrete which we'll go into further detail below.
What is grind and seal concrete?
Another alternative for outdoor flooring projects is grind and seal concrete. There are a variety of finishes to choose from such as matte, semi-gloss, and high-gloss finishes. All of which are much easier to achieve compared to honed concrete.
The distinction between honed concrete and grind and seal concrete is the way the surface is prepared. The process starts the same by grinding the concrete to a satisfactory level. But instead of polishing the surface mechanically by using resins and polishing equipment, a topical sealer is applied to create the finish you're looking for. If you intend to use grind and seal concrete on outdoor applications, the contractor will add in a non-slip additive to reduce slip hazards in pool areas and surrounds.
One of the benefits of grind and seal concrete is that you can execute that honed concrete appearance in both indoor and outdoor applications. Grind and seal can be utilized in a wide range of flooring projects, thus making it more versatile than its honed concrete counterpart.
While this type of concrete flooring is sturdier and longer-lasting than other outdoor flooring options (i.e. tiles and terra cotta), grind and seal requires much more maintenance compared to honed concrete. This is because the topical sealer sits on top of the concrete surface instead of being absorbed, which means the sealer is bound to wear off over time. To maintain the look of grind and seal concrete, it will need to be resealed after 3-5 years depending on the amount of foot traffic it receives.
Setting up of grind and seal concrete in outside areas can be quite tricky. For example, if moisture gets trapped between the coating and the slab, the risk of discolouration increases. An expert concrete installer will be able to advise you on whether grind and also seal is ideal for your outdoor location.
Making use of concrete around a swimming pool
Concrete around pools must never be highly honed. Instead, an acid wash is recommended as well as a matte finish to make the surface more slip-resistant. The purpose of acid wash is to clean the concrete surface thoroughly so that the sealant can adhere better and won't peel away after a few years.
If you're thinking about using an acid wash as well as a sealant around your swimming pool, it's best to work with a professional concrete installer. Dealing with acids can be dangerous, and working with a specialist will certainly guarantee the task is done securely as well as effectively, resulting in a high-grade, durable surface around your swimming pool.
Concrete as an outdoor flooring option
If you're looking for a hard-wearing and aesthetically pleasing flooring for your outdoor areas, honed concrete and grind and seal concrete are two excellent choices. These types of floors provide a luxurious shine that instantly uplifts any property's curb appeal. Of course, honed concrete does more than just visually enhance your floors as they are stronger and more crack-resistant than traditional concrete flooring.
Like with most home projects, it is crucial that you talk to an expert concrete installer to determine which alternative is most appropriate for your task. Careful planning and consideration are vital to ensuring your home's exterior surfaces look amazing for years ahead.